rolltainer® accessories
Roll container accessories: Intermediate shelves
With intermediate shelves made of wire mesh or plastic, roll containers are even better suited as storage aids. The wire mesh shelves carry up to 150 kg, the plastic shelves 100, 150 or 200 kg. The plastic shelves are also available in halved versions.
Roll container accessories: fabric lashing straps
In order to optimally secure goods, FEIL supplies additional rubber or fabric tension belts. Belts made of both materials can be ordered with different fasteners.


Roll container accessories: Covers
The transparent or opaque cover or disposable hoods from FEIL protect the goods from dirt and dust. Zippers on the sides facilitate handling.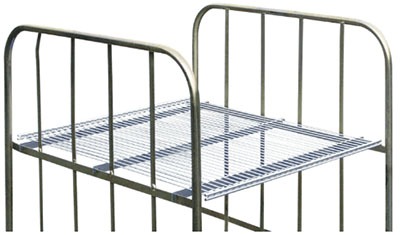 Useful accessories for roll containers can be found at FEIL. With the right accessories, roll containers are even more functional because they can be adapted exactly to the respective transport and storage requirements.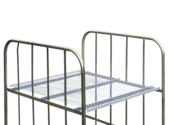 Wire mesh shelfload capacity 150 kg, galvanically zinc-plated
Wire mesh shelfload with sliding edge, capacity 150 kg, galvanically zinc-plated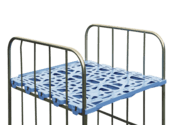 Plastic shelf load capacity 150 kg / 200 kg, various RAL colours, name embossing optional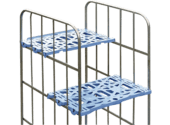 Plastic shelf halved version, load capacity 100 kg, various RAL colours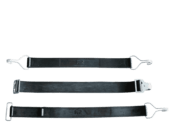 Rubber lashing straps – 2 wire hooks – 1 plate hook and 1 plate ratchet – 1 wire hook and 1 wire ratchet
Fabric lashing straps with wire hook and cam buckle, red, yellow or blue, optional sewn-in elastic band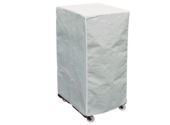 Dust or thermal cover with zippers, stitched for easy handling
Dust or thermal cover with zippers, stitched for easy handling